In periods of high demand, it will always be necessary to mine for Whitby jet. This causes us problems however, as jet mining is illegal in the Whitby area. Why I hear you ask? Well, Whitby jet occurs as individual planks in the host rock over approximately an eight-mile coastal outcrop. This land is privately owned and therefore we do not have mining rights. The jet under our feet on the wave-cut platform is owned by The Crown so we don't have mining rights to that either. So we are simply not permitted to go Whitby jet mining! We are therefore restricted to collecting jet which washes in on the tide as loose fragments. As I mentioned at the beginning however jet mining is always needed when demand is high as there simply is not enough loose material available. This leaves us manufacturers with three options; illegally mine jet (in the dark, hope nobody tells Her Majesty, pedal foreign material and hope nobody finds out, or limit the stock we make to the amount of genuine Whitby jet available. Tricky…
However, Whitby jet mining has been extensively undertaken in the past. We know this as there are roughly 300 mines identified on maps to date. These mines may be shallow pits or as recently discovered over 4 miles in length and worked on a highly organised commercial scale. Although these are all Victorian mines, there is evidence that these mines overprint much older ones and that Whitby jet mining may have had its routes in antiquity.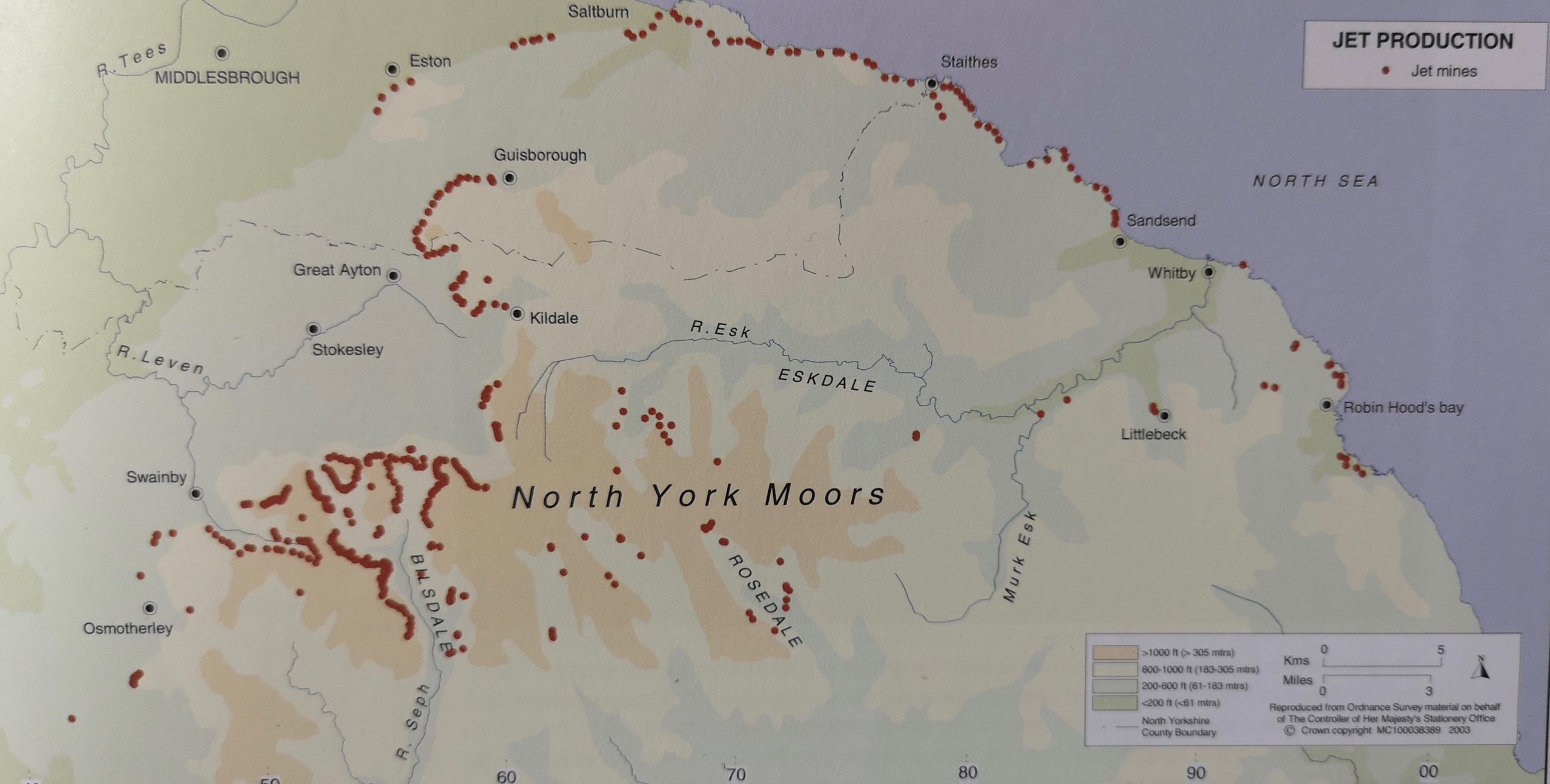 Now, I'm only going to mention this once, but it would be absolute insanity to enter any abandoned mine, whether a jet mine or any other unless you are an experienced caver and fully trained in the risks associated with such an endeavour. All the mines in the Whitby area predate The Mines Regulation Act (1881) and therefore are essentially undocumented. They also certainly do not conform to any current health and safety regulations. It would be totally irresponsible to enter such an underground labyrinth. Saying that I was lucky enough to be accompanied down one such mine recently by mining expert Chris Twigg and other experienced cavers. Chris has been involved in mine and cave exploration across the North East for the last decade, an active member of the North York Moors Caving Club, Cleveland Mining Heritage Society, Durham Cave and Mine Club and Cleveland Industrial Archaeology Society to name but a few. To, therefore, protect you, dear readers, from the deadly perils, I shall document here my journey into the abyss.
I'm not going to disclose the mine location to remove any temptation you may be experiencing, but also to protect this archaeological environment as very few humans have contaminated this mine since the 1870s. It is however located inland and some twenty or so miles from Whitby. The original adits into the mine are blocked, so we are entering via an area of the collapsed roof in one of the mine drifts. Unlike deep mines, there are no vertical mine shafts here. The drift passages are simply driven horizontally into the hillside.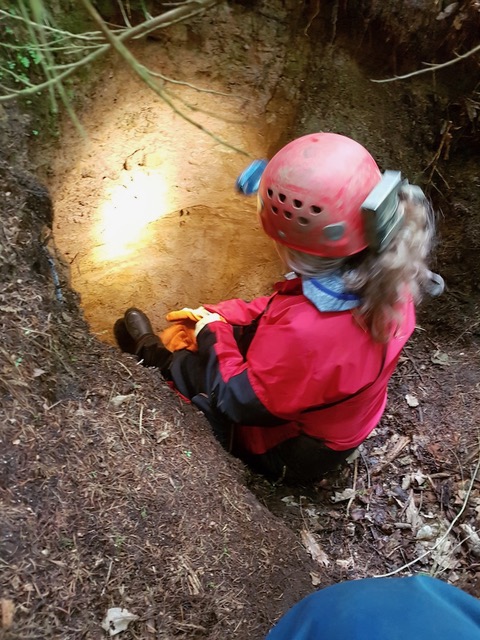 My entrance was less than graceful, essentially a shear drop hidden in woodland. Assured that I would make it back out somehow, I took the leap of faith.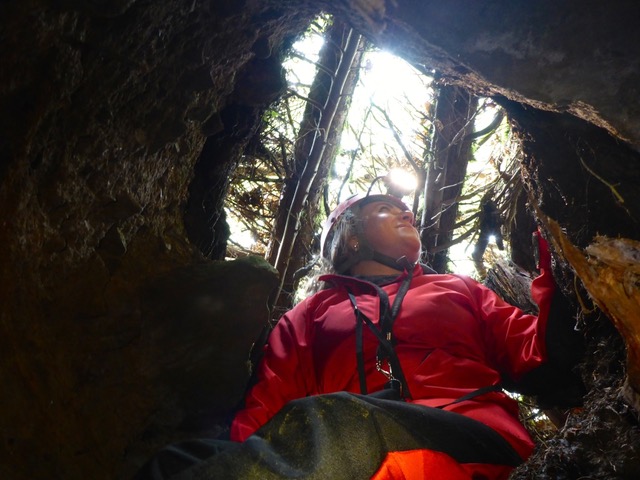 As a geologist and research gemmologist, it is invaluable to study Whitby jet in situ, in the host rock. This is seldom possible along the beach outcrops as it is removed quickly by the jewellery manufacturers. In a mine environment, however, it is possible to observe jet in its natural environment. This mine is totally un-propped. In fact, I saw only one piece of wood in the entire mine and that was doubtlessly brought into the mine by a rabid badger or such creature. The roof of the mine is in many passages supported by an almost mythical entity, known by those in the know, as 'The Top Jet Dogger'. You may be sniggering, imagining something that happens at the back of Whitby Co-op car park after dark but this is actually a hard, dirty band of limestone in comparison to the Jet Rock Shales which contain the majority of the jewellery grade Whitby jet. These shales are soft, fissile oil-rich mudstones and as such have little strength. In other passages, the conduits are triangular in cross-section giving strength to the structure. The method seemed to be successful as we saw little in the way of roof collapse within the mine.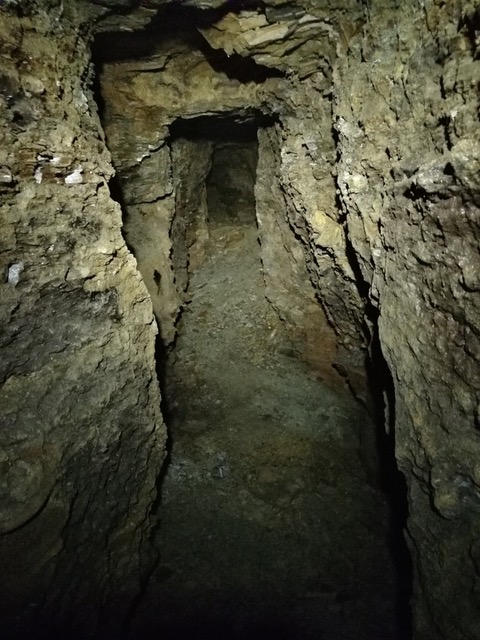 The Jet Rock Shales (now known as the Mulgrave Shale Member) as I briefly mentioned are oil shales. These are essentially sediments rich in kerogen (solid, insoluble organic matter in sedimentary rocks) and as such are able to generate hydrocarbons, those amazing substances used to fuel over C21st lives. The beauty of tunnelling through the oil shales is the fact that it is possible to observe these oil shales doing their thing – generating oil!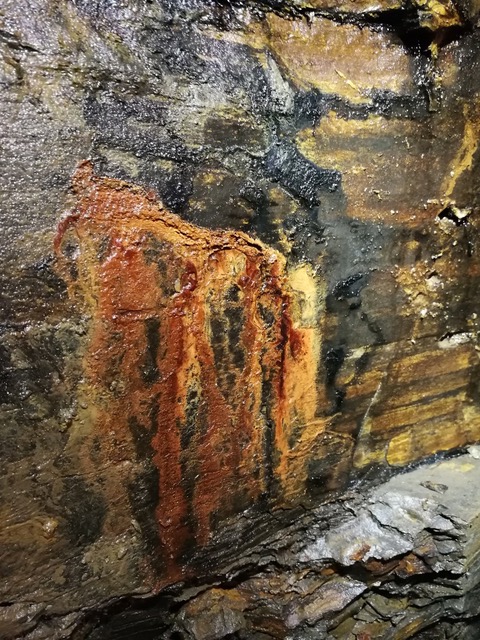 Alongside the ability to generate oil, the Mulgrave Shale Member is also famous for the quality of its fossils. Inside the mine, I was expecting to see more in the way of fossils than actually present. There were however some beautiful ammonite graveyard assemblages exposed on the based of the Top Jet Dogger above our heads.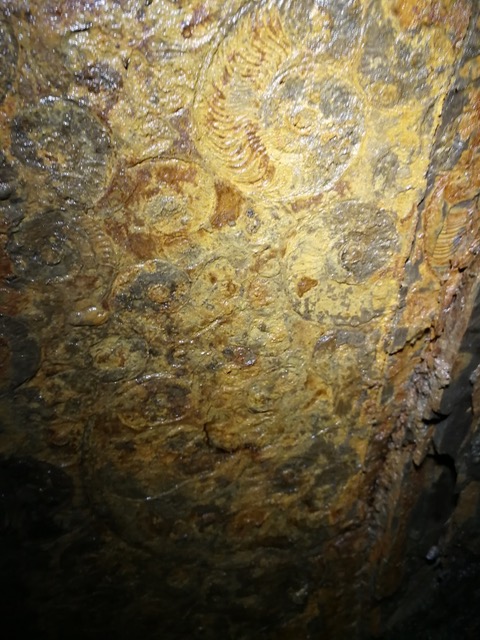 As we ventured further into the mine we discovered areas in which it was easy to see that whole tree trunks of jet had been carefully removed taking care to keep the sections intact.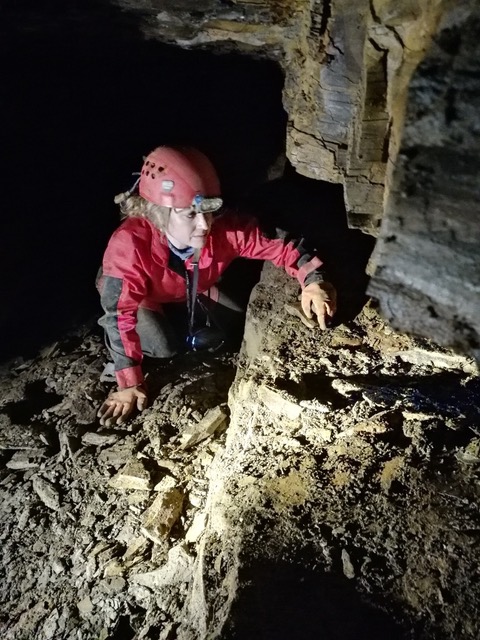 The mine has now been extensively mapped and has revealed some amazing surprises. Prior to the discovery of this and other mines, it was believed that no jet mine was longer than 100 feet in length. It turns out that this is partially true in that the mine, although some four miles long, never extends further than 100ft into the Jet Rock. After this depth, the jet rock shales are simply too hard to excavate with picks and chisels. Instead, the mine passages follow the topography of the hillside. It has also been discovered that the mine is, in fact, two mines connected by a narrow tunnel, just big enough to squeeze through before continuing in the second mine.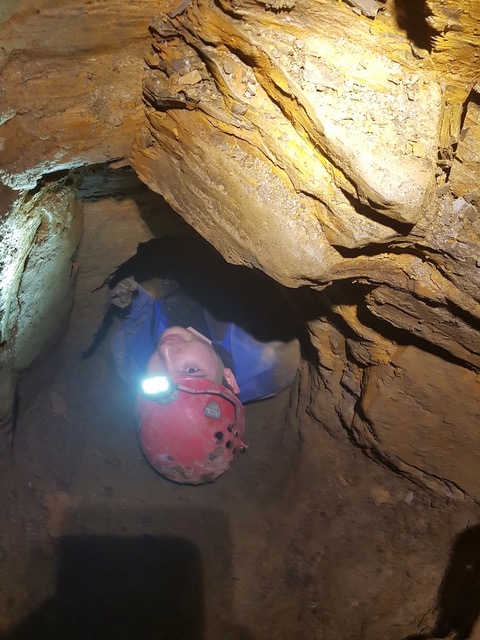 We also discovered other adits or entrances into the mine which are now blocked. These adits have tracks for carts which would have been used to remove waste from the mines.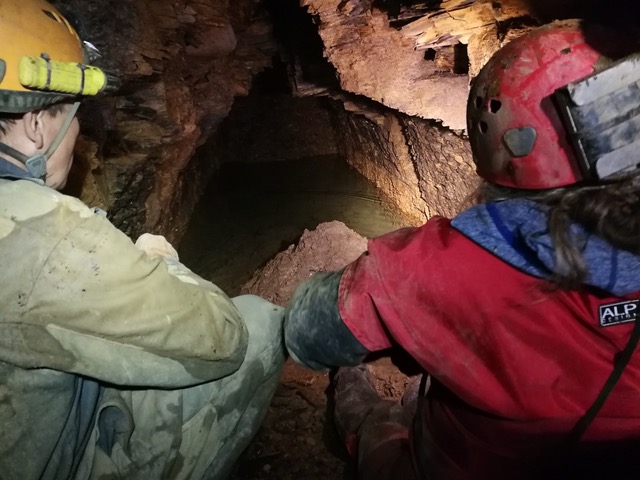 The method of mining used in this mine is known as 'dressing'. The passages are excavated to a height of perhaps 8-10 feet, then the roof material is brought down and the mine waste scavenged for jet. This does however reduced the height of the passages to around 5ft in height but removes the necessity to remove huge amounts of shale from the mine itself, the waste is simply trampled underfoot.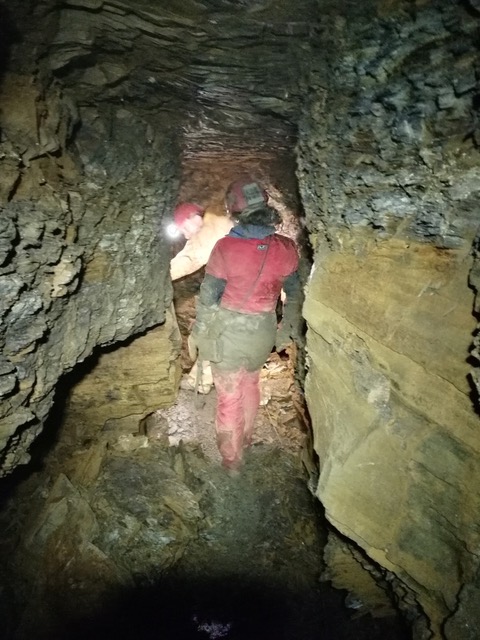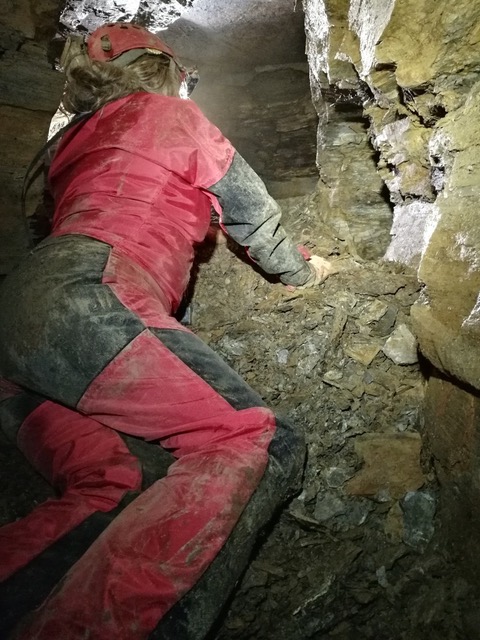 Eventually, we reached the back wall of the mine, after which the shales are simply too hard to excavate by hand. The use of explosives would have been far too damaging to the fragile jet.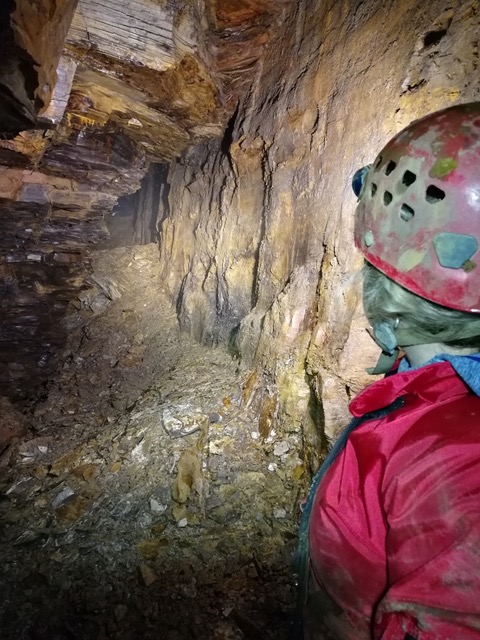 One thing that was pretty much absent during our exploration was any evidence of Whitby jet itself. It seems that the Victorian miners were very efficient at locating and removing the gem material. The jet we did see was exposed in recent roof collapses.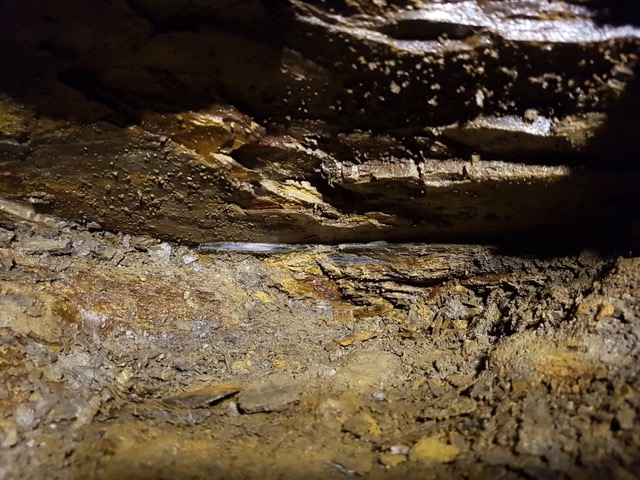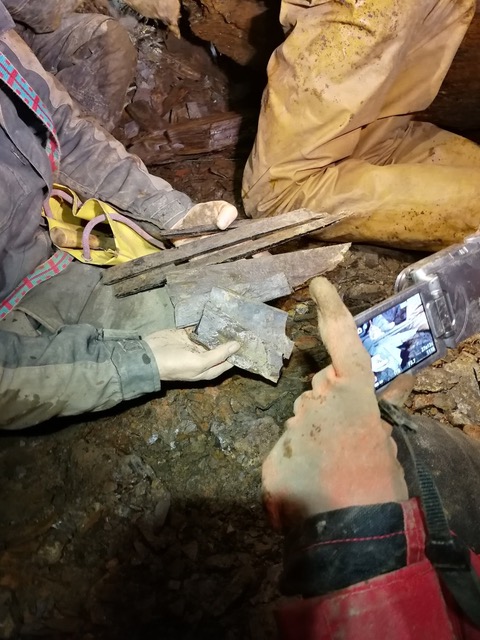 One thing present in abundance, however, is oily mud. It gets absolutely everywhere!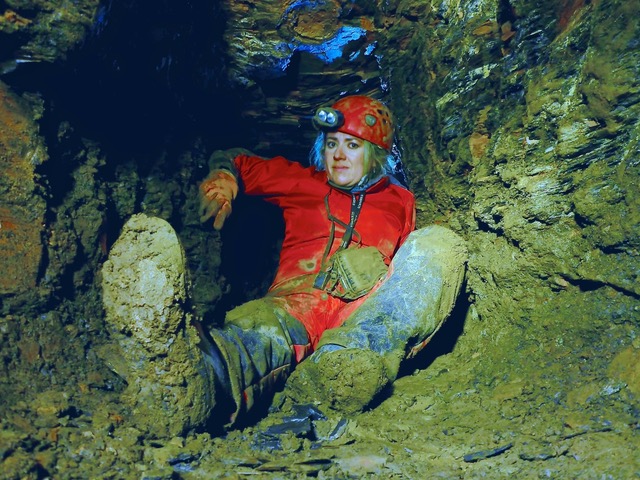 Eventually, we made our way back to the surface. Once outside we evaluated the material we had found, samples of which will be analysed over the coming years and form the basis of my inland jet research suite. The whole experience was quite wonderful and one I shall not forget.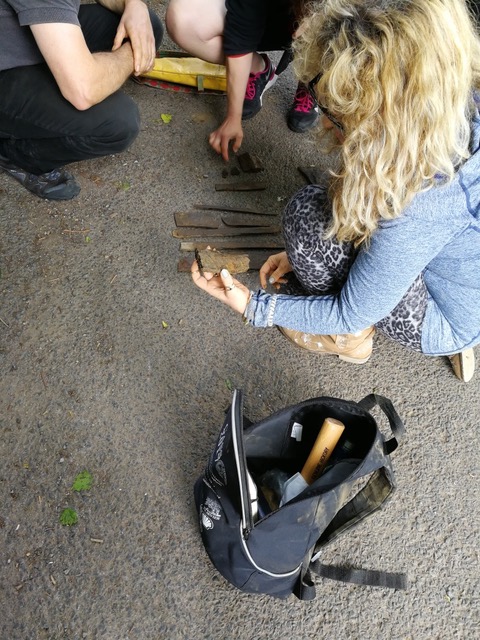 Chris Twigg will be giving an online talk on the History of Whitby jet mining on 15th October 2020. Tickets are available here https://www.eventbrite.co.uk/e/inland-jet-mining-in-north-york-moors-tickets-116281588361
More wonderful photos of jet mines can be found at the North York Moors Caving Club website http://nymcc.org.uk/projects/jet-mines/
And how to legally and safely collect jet on the coastline is discussed in my blog https://blog.eborjetworks.co.uk/2020/08/14/how-to-find-whitby-jet/