Was Whitby jet jewellery made in 1960's?
'Jet Boy' by Pathé Films is probably right up there with Top Gun and Brief Encounter when it comes to my favourite ever films. 'Jet Boy' documents Roy Jay, a young Whitby jet worker in 1966. He is described as 'the sole surviving jet worker'.
The Pathé film is a valuable jet research resource and fascinating for a number of reasons. The first thing that strikes me is that Roy appears to be collecting jet at the bottom of the west cliff, just under the Whitby whalebones. Jet seldom washes up here and certainly not in the size pieces he collects.
Roy then uses the 'jet streak test' to check if he has picked up jet or coal. I am assuming this is for the benefit of the viewer as an experienced jet worker would seldom need such a test! Whitby jet draws a brown streak, coal of course draws a black streak.
A 1966 Whitby jet workshop according to 'Jet Boy' Pathé film
The 'Jet Boy' Whitby jet workshop is also rather fantastic. Just look at the decor, that lampshade!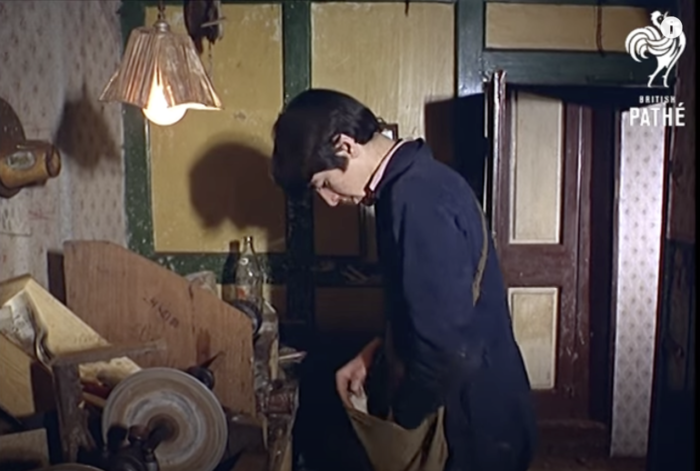 His attic workshop is basically modelled on that on display at Whitby Jet Heritage Centre and is the set-up commonly used by the Victorian manufacturers, essentially a run of linked cutting wheels and grindstones. It also seems remarkably clean for a space in which jet is ground dry. Usually, there would be clouds of brown jet dust and a thick covering on each surface.
How was Whitby jet jewellery made in 1966?
Firstly Roy is seen to be using a Victorian method of manufacture for his jet jewellery. He begins by 'chopping out' Whitby jet, essentially removing the shale skin with a chisel or in this case a sharp screwdriver.
Secondly, Roy grinds the Whitby jet to shape on a sandstone grinding wheel.
Thirdly Roy is shown using a lead cutting wheel to form decorative grooves in a Whitby jet brooch.
Whitby jet jewellery in 1966
Roy's sister Pamela is shown allegedly modelling her brother's Whitby jet creations. The jet she is wearing, however, in all likelihood dates from around 1860 so already 100 years old!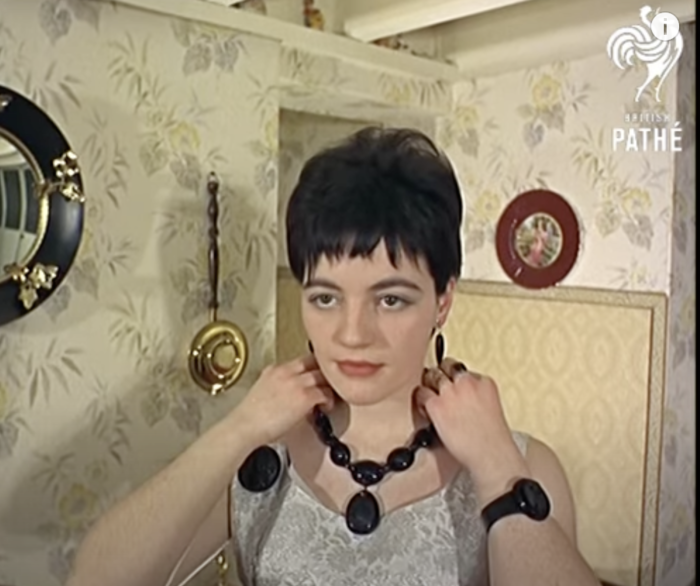 Then the film finishes with a panorama of jet jewellery, the first brooch at the top left is actually made from dyed pressed horn, so not genuine Whitby jet at all. The carving of a face is also worth a mention! The collar and ornaments are almost certainly Victorian. If I were to guess I'd say that the rough pendant on the silver chain and the cufflinks are made by Roy.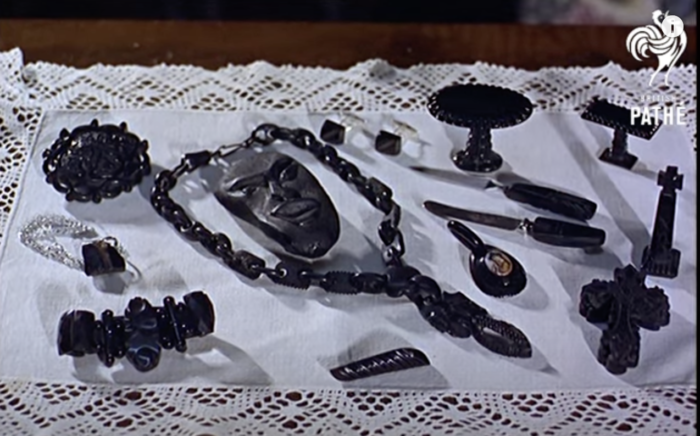 In summary Whitby jet manufacture in 1966
I guess nothing much changes in film and documentary making, an artistic license has certainly played a role in this film. That being said 'Jet Boy' by Pathé Films is really quite wonderful and invokes a real sense of nostalgia.
During the Victorian heyday, Whitby jet workshops were often located in attics to maximise the available light. Today our traditional Whitby jet workshop at The Ebor Jetworks is still located in our attic where the rooftop harbour views inspire our creativity.
I hope you enjoyed watching it as much as I do. For more information on how to find your own Whitby on the beach read Here